General Information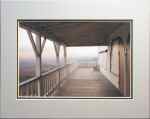 All photos are high resolution, printed with archival-quality inks and paper, matted as shown at right (7 1/2 x 11 print size shown; click on the thumbnail to view a larger version). Mat choices for the 7 1/2 x 11 print size are either light grey on black (shown) or two shades of off-white. The 5 x 7 inch prints are available with either a grey or an off-white mat. You may choose the mat or let us choose the one that's most fitting for the specific image.
All prints are packaged in a resealable poly envelope that protects it during shipping and which may also be used for display. We recommend framing and glazing and will provide that service, for an additional charge, if requested. Please contact us to discuss framing options and prices.
Sizing Information
Currently, images are available in 7 1/2 x 11 inch print size, double-matted to fit an 11 x 14 inch frame, or 5 x 7 inch print, single-matted for an 8 x 10 frame. We plan to expand print size availability, as resources allow. Please contact us if you'd like a size we don't currently offer and we'll do our best to accomodate you. Some images may be available in limited sizes, in order to ensure a high quality print.
Stock Images
Any image may be purchased as "stock", for use in print or electronic media. Pricing varies according to precise use and volume of usage, starting at $200. Please contact us so we can discuss your specific needs and pricing.
Shipping Information
We will ordinarily ship your order within two business days of receiving payment (please see our payment policy). On occasion, there may be a delay, due to supply-related issues. Should that happen, we will notify you of the delay and tell you how long we expect your order to be held up. Since we are an owner-operated small business, with an image inventory that needs constant refreshing, there will be times when we will be traveling on photographic forays. During those times, we may be unable to fulfill orders, or possibly even to notify of delays. We will make every attempt to give notification, but we ask your indulgence.
Thank You